Organization Name:
Bravo Niagara! Festival of the Arts
Organization Description:
Bravo Niagara! is dedicated to defining the Niagara Region as a destination for innovative artistic performances of the highest calibre. Our concerts are multi-sensory experiences and a "Symphony of the Senses" — music, wine, culinary and visual arts — combined with Niagara's natural beauty and historic riches.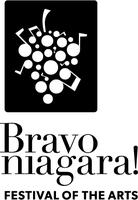 Organization Website Link:
Facebook
Twitter
---
Project Name:
Inaugural Oscar Peterson Jazz Festival & Spring Into Music Series
Project Description:
City:
Niagara-on-the-Lake
Region:
Southwestern Ontario
Start Date:
2018-01-16
End Date:
2018-05-27
Amount Funded:
$15,000.00